Tech Ally proactively monitors your important systems, so if they happen to go down, we can immediately work on solving the problem, resulting in less downtime.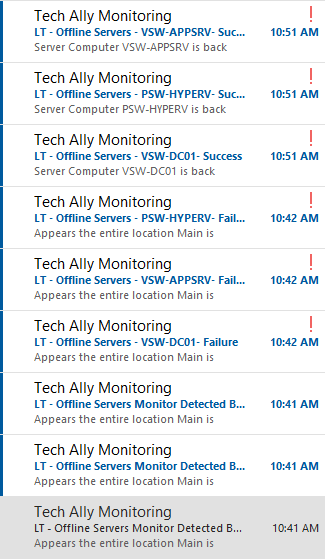 Knowing what's up!
This morning a client called – and I already knew what it was about. A minute before the phone call a notification came through that their systems were offline. I immediately started to do some tests and verifications to identify what might be happening. By the time the call came in, I already knew that it was most likely one of two issues, the ISPs router, or their firewall, as I couldn't access any services at the client's site.
While they were on the phone, I walked them through a couple quick troubleshooting steps, but when there was a question of what exactly to do – I decided that it would be best to go on site.
Once on site, we were able to quickly identify and solve the problem (a firewall power cord had been jostled loose), and the client's site was back up and running. Total response time from initial notification to being fixed – 10 minutes.
Your IT Partner
Unexpected downtime happens – but wouldn't you prefer to have a partner watching out for you to minimize the impacts to your business?
Tech Ally is here to help guide you through your IT and security needs. Contact us for a free analysis on what can be done to protect your business.

YOUR TECHNOLOGY IS OUR BUSINESS
Tech Ally focuses on helping small businesses in Saint John with their technology needs. Let us know what challenges your facing!
[mautic type="form" id="3"]